---
SDNN 3rd Annual Conference Registration is open!
Early Bird SDNN Member Fee (Before May 1): $50
Early Bird Not-Yet Member Fee (Before May 1): $75

SDNN Member Fee (After May 1): $75
Not-Yet Member Fee (After May 1): $100
SDNN will host its 3rd Annual Conference on Thursday, June 15th in Brookings on the campus of South Dakota State University from 8:30 AM - 4 PM CT. This conference offers an opportunity for nonprofit organizations to network and learn from their peers and industry experts about successes and challenges facing the nonprofit community. We are excited to gather again this year in-person and are looking forward to a great event! Take advantage of our Early Bird Registration by signing up to attend today!


---


Scholarships Available
Want to attend, but do not have dollars in the budget this year? First Bank & Trust has generously provided sponsorship dollars to ensure access is available for you! Please complete the form at the link below to apply for a scholarship to attend. Please do not let finances keep you from attending!

SDNN 3rd Annual Conference Scholarship Application


---
Event Sponsorships and Exhibit Booths Available
The South Dakota Nonprofit Network invites your organization to take advantage of the opportunity to connect with the South Dakota nonprofit sector as a sponsor and/or exhibitor of the SDNN 3rd Annual Conference.


---
Submit Nominations for our SDNN Awards Today!
SDNN is accepting nominations for the following awards to be presented at the SDNN 3rd Annual Conference. Nomination forms must be submitted by May 26th, 2023. Please contact david@sdnonprofitnetwork.org
with questions.
SDNN Excellence in Nonprofit Leadership Award
The SDNN Excellence in Nonprofit Leadership award is given to the Nonprofit Leader who has shown exemplary leadership when facing extraordinary challenges. The recipient is nominated by SDNN members and chosen by the SDNN Awards Committee. Submit your nomination here!
SDNN Friend of Nonprofits Award
The SDNN Friend of Nonprofits award is given to the person or organization who is outside the nonprofit sector and who has advanced the cause of South Dakota nonprofits and demonstrated extraordinary efforts through advocacy, funding, or other means. The recipient is nominated by SDNN members and chosen by the SDNN Awards Committee. Submit your nomination here!
---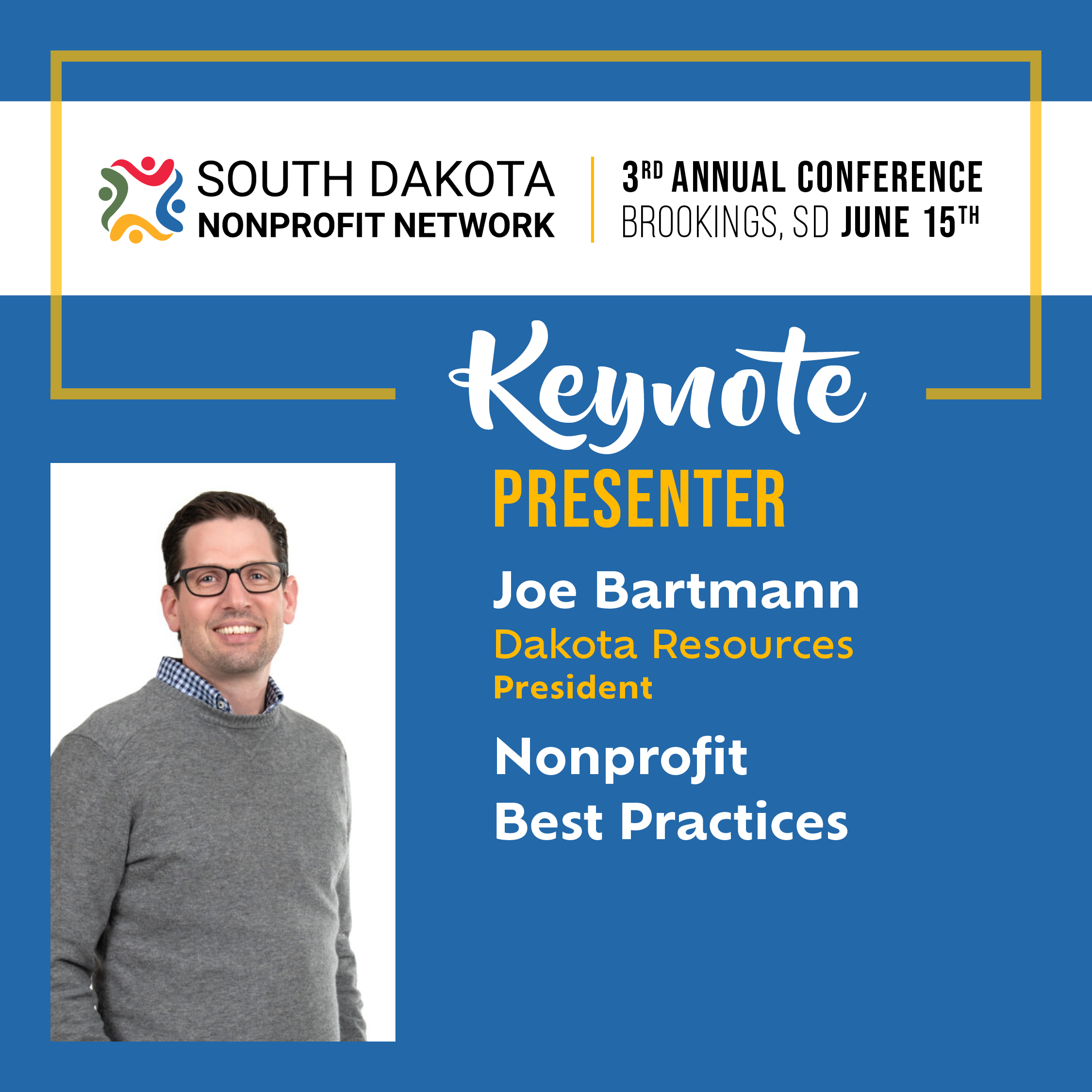 OpenX is crowd-sourced breakout sessions about nonprofit strategies that work. That means you choose what's most important to talk with others about. Anyone can name a session and invite others to join. Attend as many sessions as you'd like. Come ready to participate and discuss the items that matter most to you.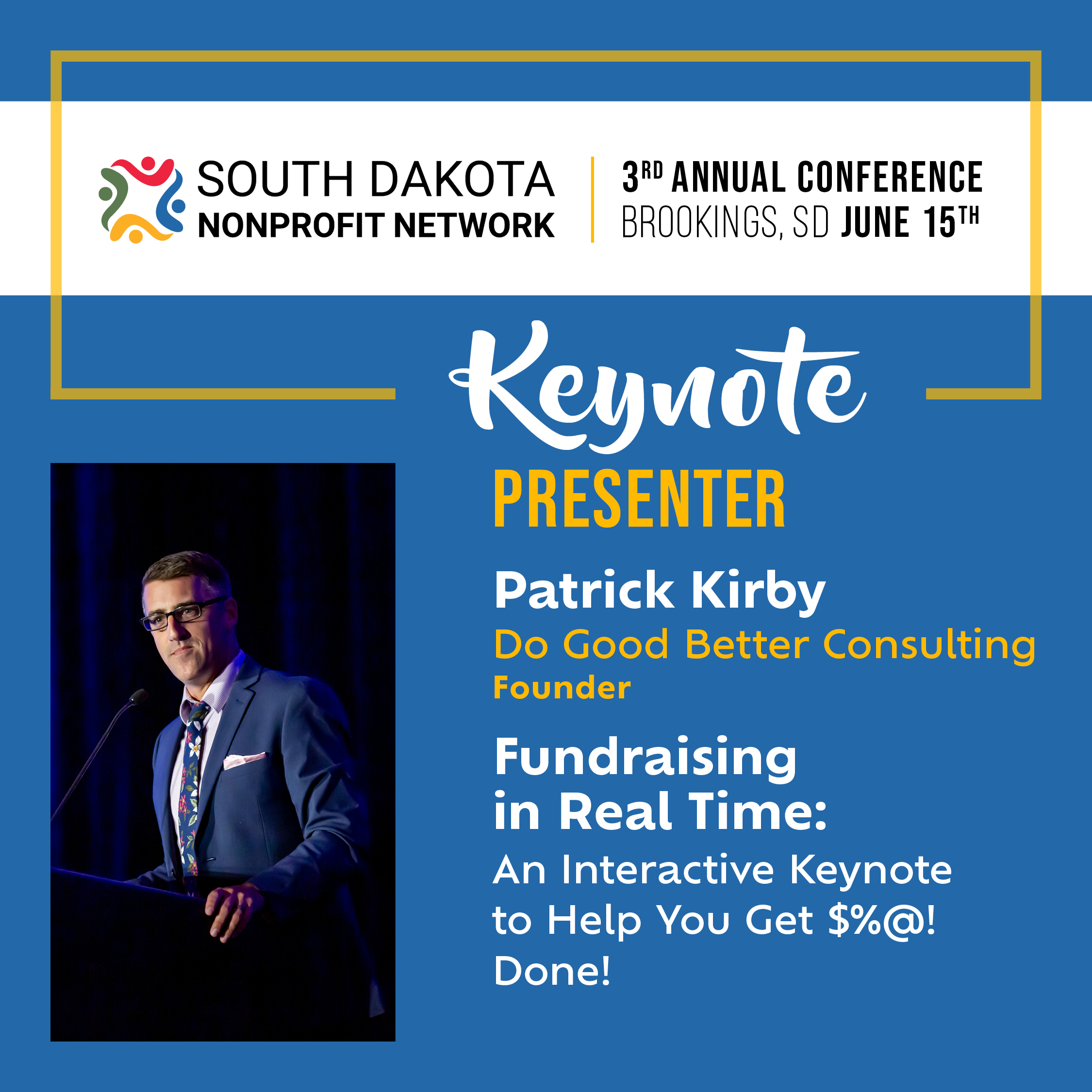 Time to create the most unique and most productive keynote you'll experience – a LIVE training where we, together, build a year long Fundraising Plan. Whether you want to add to your already created goals, or you have no idea where to start, Fundraising expert-author-podcaster Patrick Kirby will be working with attendees in real time, curating ideas, and answering questions on strategies to help you raise money for your organization!




Nonprofits at the SD Legislature
SDNN Board Member and Registered Lobbyist Julie Johnson will discuss topics from the 2023 Legislature, what is happening in the interim, prep for the 2024 Legislature, and how to best get involved and engaged.





South Dakota Funders Panel
We have a tremendous lineup of guests on the panel who will share and discuss a variety of items related to their organization as well as best practices in funder relations and the opportunities they have in place for nonprofits.
---